The Animal Cruelty Bill Advances To The Full Senate!
Posted on
It was close, but HB2671 passed committee today and advances to the full Senate.
Just two weeks ago, our efforts to ensure animal abusers receive appropriate penalties and treatment were in legislative quicksand again. Now, thanks to your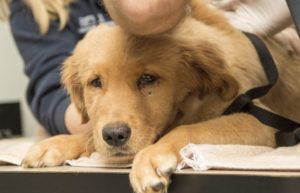 support, HB2671, the bill that strengthens penalties for heinous pet abuse, passed out of the Senate Commerce Committee today. But it was a close 4-3 vote. We need you to ensure this measure passes both the Senate and House before it heads to the Governor's desk to become law.
You helped rescue this legislation by lending your voice and we could not be more grateful. But we need to keep up the momentum. The next step is a vote by the entire Senate. We will need your voice again, and when the full Senate vote is scheduled, we'll be in touch and ask you to help ensure we're successful.
Our voices are making the difference for Arizona pets. Learn more about HB2671 here.
Photo courtesy of Arizona Humane Society
---